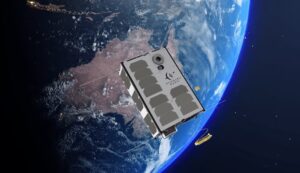 We are pleased to announce that research centre SmartSat has committed over $1 million to support the development of new tech that will be tested on the Waratah Seed WS-1 rideshare mission, Australia's first space qualification-focused ride-share mission.
Andy Koronios, CEO of SmartSat CRC, said Waratah Seed is an historic step for NSW's space industry.
"SmartSat welcomes NSW's commitment to Waratah Seed, and we are excited to be a part of such a momentous project. We enjoy a strong relationship with Investment NSW and support the growth of the NSW space ecosystem to deliver cutting-edge projects critical to the nation's space priorities. These two projects are extremely significant for furthering space technology and developing the space sector in NSW and Australia."
Professor Iver Cairns, Director of Waratah Seed project and CUAVA, said the support Waratah Seed is receiving from SmartSat CRC is critical to mission success.
"I'm delighted to be partnering with SmartSat CRC to bring our vision of Space Flight Qualification for novel Australian space technology to life. The payload teams that SmartSat has selected are creating exciting solutions for difficult problems in space edge computing and satellite resilience.